"In the beginning was the act." (Johann Wolfgang v. Goethe)
In April and May 2015, Nepal was hit by a heavy series of earthquakes. The numerous aftershocks lasted until mid-June. The quakes were a tragic event and they most brutally hit the poorest part of the population.
The lovely people of Nepal have a simple lifestyle. The country's main source of income is generated by the tourism industry. As a result of the devastating earthquake, Nepal has had to intensify and invest in reconstructing as many shelters and facilities as possible within the shortest time. Reconstruction was thus the foundation to secure basic supplies for the population and to revive the economy.

I am a heart-worker
The Nepalese are the loveliest people I have ever met. They are joyful, funny, helpful and extremely friendly. It was no coincidence that in 2012 I chose this land as the perfect destination to experience the encounter of ancient cultures during an educational journey on Buddhism, Hinduism, Yoga and meditation. In the course of my six-week stay, I did my best to absorb every aspect of the local culture and in the end I did not want to go back home. The many great people, the breath-taking landscapes, the simple life and the Nepalese cordiality fascinated me immediately and changed my way of seeing the world forever.
After such experience, life in Germany became quite hard for me. I wanted to give something back to Nepal as thanks for the special time I spent there. So I selected several pictures of Nepal and its inhabitants that I had made during my trip and I hosted two small photo exhibitions in Berlin. I invested a lot of work and resources into the event and during its preparation I began to mentally plan a future, greater project involving Nepal.
At the end of 2012, I moved to Nepal for nine months. The first purpose of my relocation was to focus on my project idea, and later to get a job in Kathmandu. After a week of preparation I finally had the outlines for the main idea and the project "Nepaltoothpath" was born. This was intended to be a social-aid camp for children, to be undertaken in a very remote western region of Nepal, at the border to India.
Initially, it was not easy to implement the whole plan and provide targeted help, since in the region many structures that we take for granted in the Western world, were (and are ) not available. I spent more than two weeks in the most remote, hardly walkable roads to reach the region and often I was about to give up my travelling. I finally reached my destination completely exhausted: but here a group of children warmly welcomed me.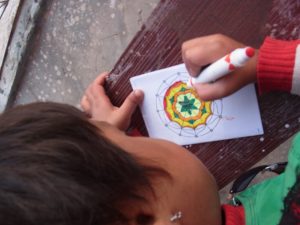 This encounter was followed by a wonderful week, spent with a daily growing group of kids, between activities such as tooth-brushing and dental care lessons, children's yoga, games, painting, cooking, picnics and lots of fun. Many children came from far away with their families. In the end it was very hard to say goodbye to them, but I had to go back the city of Kathmandu for work reasons. Later, I realized a small documentary exhibition  about the camp and a new idea for a future project began to grow within me.
Since 2013 I have been living in Germany while travelling often to Nepal and meeting new Nepalese friends, who in some ways became a part of my family.
Earthquake fundraising 2015
When the news of the earthquakes reached me, I was deeply saddened. I felt helpless. Since I had made so many good contacts in Nepal during the long time of my stay, in the days that followed I tried to imagine how I could use them to help the land. I wanted to raise funds and plan a direct aid for those who needed it most.  I immediately started to implement my idea and for several weeks I offered charity yoga classes in Berlin.
At that time, I did not know yet where the donations could go. I already had some options on the table, but my list of priorities was not yet fully defined. Finally, I chose to help the project of Bijay Lama, my Mandala teacher in Kathmandu, who was rebuilding the roofs and houses in his home village. The village had been completely destroyed by the earthquake; only a few houses were still standing and none of them had roofs. This is how the project "Roof of the World" was launched and quickly implemented.
Karma stands for doing and doing on the path of life. With Karmapfad and the school building project, we do not want to focus on metaphysical problems, we rather aim to produce a finished product, resulting from physical and concrete work.
One morning at the beginning of 2018, I woke up to suddenly see the word "Karmapfad" in my mind. Only a few days later the idea for the logo flashed before me. Soon I put these inspirations directly into action and in a short time, the project name and the  logo were fashioned.
Next, further steps were done in order to create the right conditions in Nepal for the realization of the whole project and to push it forward. The first steps on this path in the name of karma were made. The seed of Karmapfad  was germinating within me for long time, since that initial intention of giving something back to Nepal after my first trip. Finally, after the earthquake, it became a bigger project.
The inspiration for the school rebuilding came from my regular contact with local residents. Again and again I had to experience that there was no real help for the population of Nepal; this was concerning not only the everyday life of the people, but also their education, and by extension their future.
I intentionally let three years pass to see if this situation would change. Millions of people have been donating money worldwide through large relief networks. Nevertheless these funds never reached many remote regions of the country. Thus, after my last trip, I decided to help with my own initiative.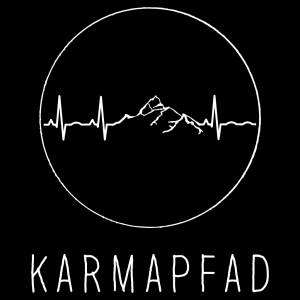 First, because of my work as a yogini, I decided to write a children's yoga book. One euro of its price was to be donated to a charity project. At that time, the entire Karmapad project was not yet in sight.
With the final design of "Karmapfad," this path reached a new level and the project  became a "rolling stone"!